Fast Turnaround
Custom Made To Order
High-performing insulation
Reduce Costs With An Insulated Roof
Cardinal Steels offer three types of insulated metal roofing including composite panels, twin skin, and over-cladding. Ideal for new projects and renovations throughout the commercial, residential, industrial, and agricultural sectors.
Our insulated steel roof sheets are combined with high-performing insulation. As a result, the interior space of any building then retains warmth. Furthermore, by reducing the amount of heat lost through the roof, it is possible to make worthwhile savings on your fuel bill or operational budget. For instance, on hot days during the summer, the insulated roof panels work to keep heat out. Due to this, the space maintains a comfortable ambient temperature inside and reduces air conditioning costs.
Online Calculator
Follow our step by step calculator to get your steel roofing quote direct from Cardinal Steels
Insulated Panel Finishes
The smart coated finish provides excellent protection from snow and rain and transforms exterior aesthetics. In addition, older buildings gain a modern and professional appearance, bringing them in line with new structures and the surrounding area.
We coat the top surface with plastisol to give it the most durable finish, with greater resistance to scratching during unloading and fitting. To aid installation, we offer a wide range of fixings designed for different structures and materials. Further, we offer customer collection and nationwide delivery with manufacturer prices giving you or your business a fantastic deal.
In short, our insulated roof sheeting makes the whole process simple. You insulate and lay in one step, saving time and money with an aesthetically pleasing product that will last for decades.
Insulated Roofing Manufactured For Purpose
Our insulated roof sheeting and cladding are manufactured for purpose and include:
Composite Panels
These insulated composite panels have fantastic thermal performance and fire rating. Therefore, like all steel roofing products, you enjoy a low-maintenance system. Cardinal's composite panels have a straightforward lapping detail. The insulated composite is slightly heavier, consequently, giving extra durability that proves very popular with most cladding contractors. All sheets are manufactured to length and are available in our full range of colours. The undersheet is a bright white steel internal liner. Additional colours are available but may delay lead time. In between the two steel skins is an insulated core. Available in several thicknesses dependent on the U-value that is required for the building. Composite insulated panels can be manufactured up to 15,000mm in length or cut back to customer specifications. The standard thicknesses are 40mm / 60mm / 80mm / 100mm / 120mm. Please speak to a member of staff for lead times.


Twin Skin / Built-Up System
This system is an amazingly simple and cost-effective way of creating an insulated steel roof sheet. They are made up of several components; a white liner inner sheet, a spacer bar/mini zed purlin, insulation, and a box profile 0.7mm outer sheet. Depending on the U-value you require, the depth of the spacer bar and the thickness of the insulation can be altered. Like the composite panels, you can choose the colour of your outer sheet, while the inner sheet is usually a white gloss finish. The lead time on this product is normally short and the money saved on materials warrants purchasing this product. Some contractors prefer this method due to less heavy lifting compared to using composite panels.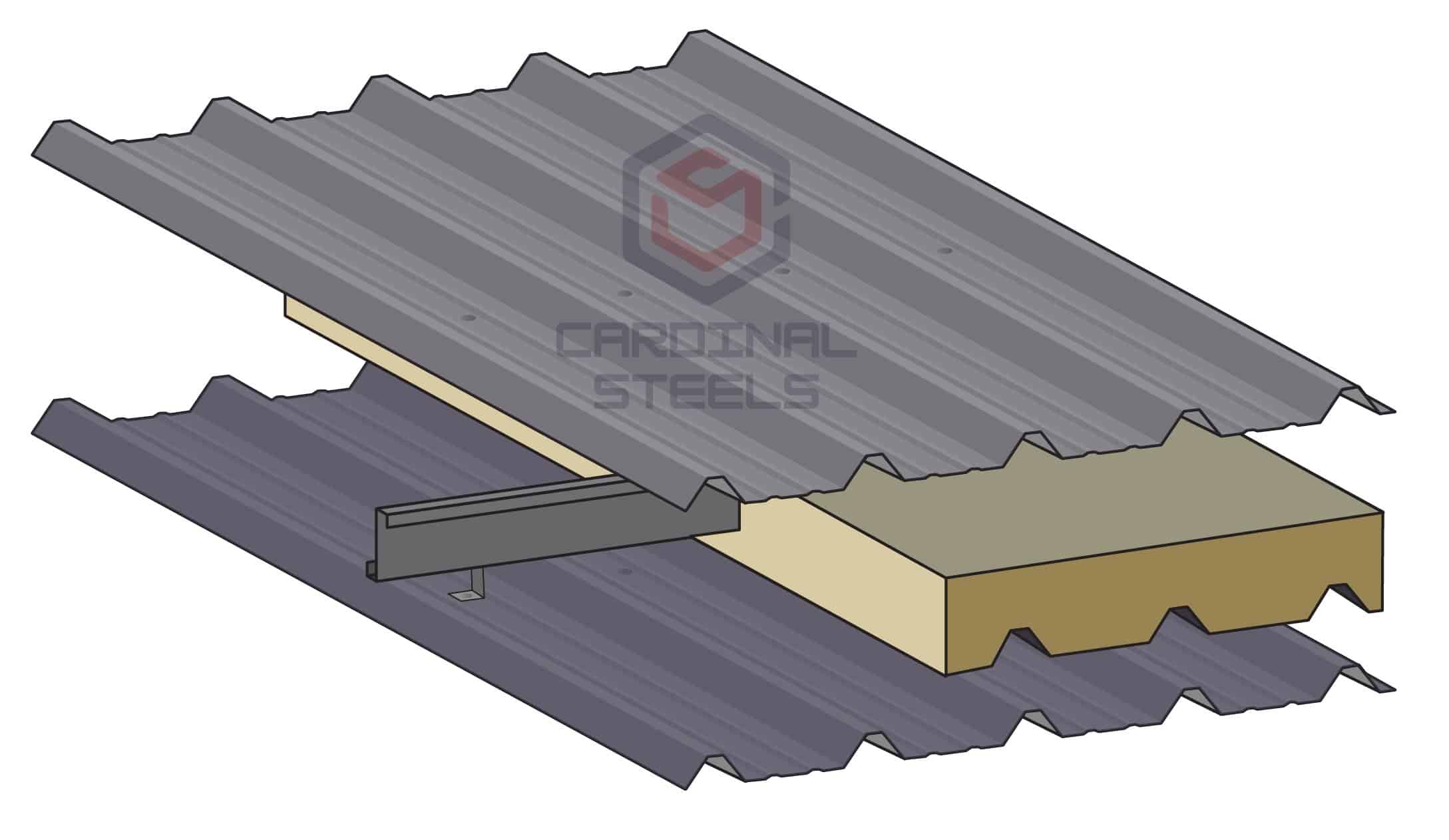 Over Cladding
This method is typically the most cost-effective way of insulating a building as it allows you to utilise the existing panels rather than starting from new. To install over-cladding, you will first need to batten the roof with steel or timber (this is normally 3 x 2). The battens are fixed down through the existing panels into the purlins/beams. Once this is completed then the insulated steel roof sheet is laid. Lastly, the top sheet, which is available in a colour of your choice, is then fixed down to the battens or rails. This saves costs overall as you use the existing sheeting. Therefore, removing the cost of stripping and disposing of the used materials, which you may face with other methods. Furthermore, over-cladding can be used simply to improve the look of an aged building by providing a more modern and updated look and feel.