Fast Turnaround
Custom Made To Order
Choice of 20 Colours
Box Profiles & Coatings
Cardinal Steels provides box profile roofing sheets with a fast turnaround and delivery within seven days. The 32/1000 trapezoidal roofing are available in a wide range of thicknesses and coatings, for example, galvanised, polyester, and Plastisol.
What Are Box Profile Sheets Used For? 
Box profile sheets are an alternative to corrugated sheets and are perfect for commercial use mainly found in industrial units, warehouses, workshops, and storage facilities. 
What Length Are The Roofing Sheets?
This can be manufactured to any length, up to ten meters. Furthermore, the box profiles give a fitted coverage of 1000mm(1m) after overlapping. For example, ten sheets will cover a ten-meter width.
Our box profile sheets are the most popular choice within the cladding and roofing industries across all sectors. The CS 32/1000 is available with an anti-condensation backing, applied as a single skin sheet or twin skin in a built-up system.
What Is The Standard Thickness?
The standard thickness for all Cardinal Steels' box profile sheets is 0.7 mm. However, all are available in the 0.5 mm option used for wall cladding and CS 32/1000 Liner Panel. Furthermore, they are simple to install and are easily maintained with minimum work. Please ask a member of staff for details for methods of maintenance.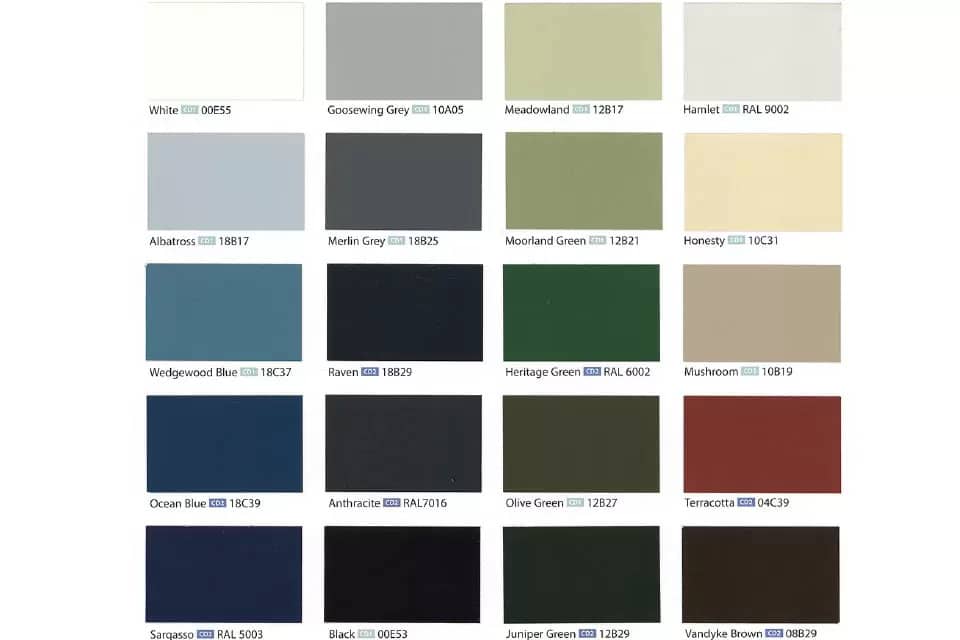 Please view our colour chart but please be aware that all colour representations on the page are intended to be used as a general guide and indication. However, Cardinal Steels always recommends requesting a sample that a member of staff will be more than happy to send in the post. 

What Coatings Do We Offer?
We would always recommend Plastisol. Firstly, the product's finish has an excellent resistance to abrasion and corrosion. In addtion, the polyester is a fantastic product, suitable for both our box profile and corrugated sheets, but can be liable to scratching even if not handled with care whilst unloading and fitting. 
There are four coatings available. These are: 
Galvanized – Shiny/Dull silver colour in finish. Available in 0.4mm up to 0.7mm thickness. No Guarantee available.

Polyester – Gloss finish. Available in 0.4mm up to 0.7mm thickness

. Up to 15 years guarantee.

 

Plastisol HP200 Leathergrain – Gloss finish. Available in 0.4mm up to 0.7mm thickness. Up to 25 years guarantee.

Plastisol HPS Ultra – Gloss finish. Available in 0.4mm up to 0.7mm thickness. Up to 30 years guarantee.