Match Your Existing Roof Sheets
Folded On-Site To Your Specs
Custom Made To Order
Bespoke Metal Roofing Sheets
We offer several profiles including box profile sheets and corrugated steel roofing profiles. However, in the realm of roofing, one size does not always fit all. Every building is unique, and sometimes, off-the-shelf solutions just don't cut it. That's were made to measure roofing sheets step in. A solution focusing on providing precision-crafted roofing panels that match your specific requirements. It's about delivering an impeccable solution that addresses various niche scenarios that standard roofing options might not cover. With a passion for innovation and an unwavering commitment to excellence, Cardinal Steels is your go-to partner for all your obsolete and bespoke steel profile needs.
Resurrecting Discontinued Profiles
Structures evolve, companies come and go, and technologies advance. This evolution can lead to discontinuation of certain roofing panel profiles. But what happens when you need to replace a panel from a profile that is no longer manufactured? Bespoke made to measure roofing sheets are the answer. Whether it's due to the original manufacturer going out of business or discontinuing a certain profile, these custom-made roofing sheets help you seamlessly replace panels that are no longer available on the market.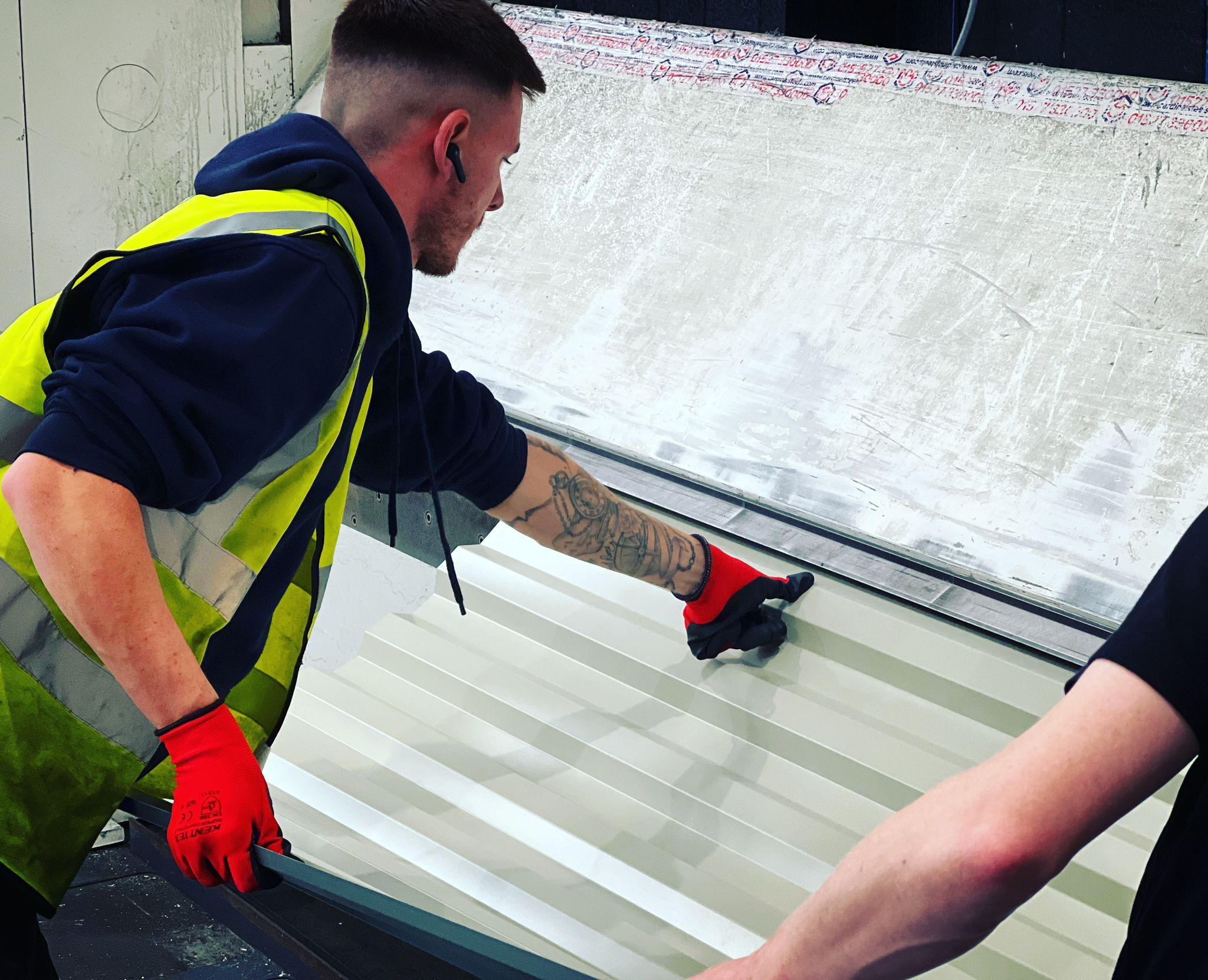 Harmonising Aesthetics
In today's era of sustainability, many individuals are opting for solar panels to harness clean energy. However, this installation can sometimes require alterations to your roofing structure, including replacing elements like GRP skylights. To maintain a harmonious and visually appealing roofing surface, you need panels that match seamlessly with your existing ones. Made to measure roofing sheets enable you to achieve this feat by offering panels that are tailored to blend seamlessly with the surrounding materials.
Dilapidation Remedies
The business landscape is ever-changing, and companies often relocate. When a business moves out of a unit, there's a requirement to restore the premises to its original state. Damaged roofing panels can pose a challenge in such scenarios. Bespoke made to measure roofing sheets are the solution, offering the ability to replace damaged panels with precisely matched ones. This ensures that the structure is restored to its former glory, maintaining its original appearance.
Unveiling the 48-Hour Promise
One of the remarkable aspects of Cardinal Steel's made to measure roofing sheets is the rapid turnaround time. Need a matching profile in a hurry? With just five measurements, you can have custom panels crafted to match your roofing profile within a mere 48 hours. This unparalleled efficiency ensures that your roofing project experiences minimal downtime, allowing you to swiftly restore the integrity and aesthetics of your structure. The 48-hour promise adds an extra layer of convenience, ensuring that your roofing project proceeds swiftly without compromising on quality.
Provide Your Own Measurements For A Bespoke Quote
Getting a bespoke quote is as simple as completing the form to the right and providing us with 5 easy to find measurements.

A – Measure across the width from the centre of one peak to the centre of the next peak.
B – Measure vertically from the bottom of a valley to the top of a peak.
C – Measure across the width from one side of a peak to the other side of the same peak.
D – Measure across the width from one side of a valley to the other side of the same valley.
E – Cover Width – Measure from centre of the first peak to the centre of the last peak
What Coatings Do We Offer?
We would always recommend Plastisol. Firstly, the product's finish has an excellent resistance to abrasion and corrosion. In addition, the polyester is a fantastic product, suitable for both our box profile and corrugated sheets, but can be liable to scratching even if not handled with care whilst unloading and fitting.
Galvanized
Shiny/Dull silver colour in finish.

Available in 0.4mm up to 0.7mm thickness.

No Guarantee available.
Polyester
Gloss finish.

Available in 0.4mm up to 0.7mm thickness.

Up to 15 years guarantee.
Plastisol HP200 Leathergrain
Gloss finish.

Available in 0.4mm up to 0.7mm thickness.

Up to 25 years guarantee.
Plastisol HPS Ultra
Gloss finish.

Available in 0.4mm up to 0.7mm thickness.

Up to 30 years guarantee.
Roofing Ancillary Products
This all depends on how you are using the roof sheets, but we offer a wide range of ancillary products to finish the job. From our range of Z-purlins made in our own factory and roof fixings to hold everything together. Through to flashing and trims to protect any loose edges and give your project the finishing touch.
View our colour chart but please be aware that all colour representations on the page are intended to be used as a general guide and indication. Cardinal Steels always recommends requesting a sample that a member of staff will be more than happy to send in the post.